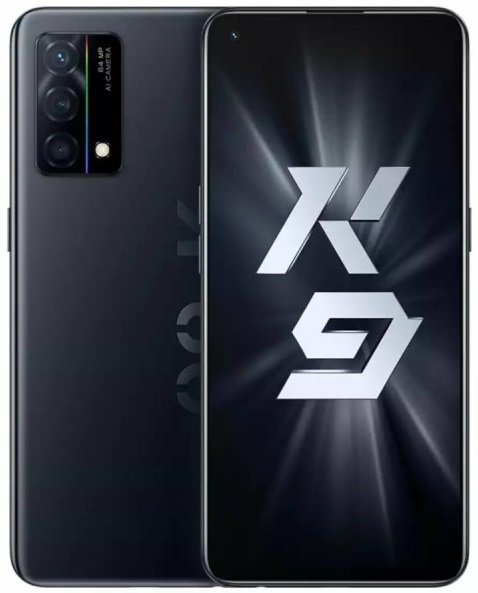 Oppo K9 price in Pakistan
Supported Bands
2G
3G
4G
5G
Rs. 46,999/-
processor


2800 MHz


screen


Diagonal 6.4"


battery


4300 mAh battery

camera


64.0 MP camera
focal length f/1.70

memory


RAM 8GB
ROM 128GB


physical


Width 00.0 mm
Height 159.1 mm

How fast is Oppo K9?
Oppo K9's antutu score is 449750 making it
55% better than all other phones in the world
The best performing phone in the world is iQOO 7, according to Performance Ranking of AnTuTu V9
Oppo K9 Review
Oppo K9 price in Pakistan. Oppo is bringing another K series smartphone soon Oppo K9 in China. K9 is the successor of the Oppo K7 smartphone. The smartphone is having a 4300 mAh capacity battery along with 65W fast charging support. The smartphone base model is having 8 gigabytes of RAM and 128 gigabytes of storage same as its predecessor. The premium model of the phone is having 8 gigabytes of RAM and 256 gigabytes of storage. Oppo K9 is coming in the Black and Gradient colors option and the base model price will be CNY 1999 (USD $307).
The smartphone is going to have a triple rear camera setup and a single camera on the front. The main sensor on the back is 64 megapixels along with 8 megapixels ultrawide camera and 5 megapixels macro sensor. The front punch hole camera is going to be 32. The smartphone is having 5G connectivity along with Qualcomm Snapdragon 855.
Retail Price of Oppo K9 in Pakistan is Rs.46,999/-. Price mentioned for Oppo K9 above is in Pakistani Rupees PKR. We are showing the latest price updated on April 22, 2021, Oppo K9 price in Pakistan is updated from the list provided by Oppo authorized distributers. The price for Oppo K9 is valid all over Pakistan including these major cities: Karachi, Lahore, Islamabad, Peshawar, Quetta and Muzaffarabad. Online shops such as Daraz, Goto and telemart, offer similar prices. We have listed this price from authorized distributor.
There could be price variations depending on discounts available online or stock clearance sale offers in major business centers and mobile shops all over Pakistan. We suggest to always look for PTA approved Oppo K9 in official warranty.
Oppo K9 Specifications
Oppo K9 Specs
Released

2021, May 11

Hardware Design

Oppo

Manufacturer

Oppo

Extra Features

Haptic touch feedback

Device Type

Smartphone
Oppo K9 Physical Dimensions And Form Factor
Width

00.0 mm

Height

159.1 mm

Depth

7.9 mm

Mass

172 g
Oppo K9 Operating System & Software
Platform

Google Android

Operating System

Google Android 11 (R)

Additional Software1

Voice Command , Navigation software , Augmented Reality (AR) , Intelligent personal assistant , Face Recognition
Oppo K9 Processor & Chipset
CPU Clock

2800 MHz

CPU

Qualcomm SM7250-AC Snapdragon 768G 5G, 2021, 64 bit, octa-core, 7 nm, Qualcomm Adreno 620 GPU
Oppo K9 RAM - Operative Memory
RAM

8GB

RAM Type

LPDDR4x SDRAM

RAM Capacity

2133 MHz
Oppo K9 Storage
Oppo K9 Internal Storage

128GB
Oppo K9 Display
Resolution

1080x2400

Display Diagonal

162 mm or 6.4"

Horizontal Full Bezel Width

7.57 mm

Display Area Utilization

85.5%

Display Notch

Punch Hole

Pixel Density

409 PPI

Display Type

Color AM-OLED

Number of Display Scales

1073.7M

Scratch Resistant Screen

Corning Gorilla Glass 5
Oppo K9 Graphical Processor
Graphical Controller

Qualcomm Adreno 620
Oppo K9 Audio Video Interface
Oppo K9 Audio
Microphone(s)

stereo

Loudspeaker(s)

mono

Audio Output

3.5mm
Oppo K9 Cellular SIM 1
Supported Cellular Bands

GSM 850MHz (B5) , GSM 900MHz (B8) , GSM 1800MHz (B3) , GSM 1900MHz (PCS, B2) , UMTS 2100MHz (Band I, IMT) , UMTS 1900MHz (Band II, PCS) , UMTS 850MHz (Band V, CLR) , UMTS 800MHz (Band VI) , UMTS 900MHz (Band VIII) , UMTS 800MHz (Band XIX) , CDMA 800MHz (BC0, 850) , TD-SCDMA 2000 MHz (B34) , TD-SCDMA 1900 MHz (B39) , LTE 2100 MHz (Band 1) , LTE 1900 MHz (Band 2, PCS) , LTE 1800 MHz (Band 3) , LTE 1700/2100 MHz (Band 4, AWS) , LTE 850 MHz (Band 5) , LTE 2600 MHz (Band 7) , LTE 900 MHz (Band 8) , LTE 700 MHz (Band 12) , TD-LTE 2000 MHz (Band XXXIV) , TD-LTE 2600 MHz (Band 38) , TD-LTE 1900 MHz (Band 39) , TD-LTE 2300 MHz (Band XL) , TD-LTE 2500 MHz (Band XLI) , NR 2100 MHz (N1) , TD-NR 2500 MHz (N41) , TD-NR 3500 MHz (N78) bands

Supported Cellular Data Links

GPRS (Class unspecified) , EDGE (Class unspecified) , UMTS 384 kbps (W-CDMA) , HSUPA (Cat. unspecified) , HSUPA 5.76 Mbps (Cat. 6) , HSDPA (Cat. unspecified) , HSPA+ 21.1 Mbps (Cat. 18) , HSPA+ 42.2 Mbps (Cat. 20) , DC-HSDPA 42.2 Mbps (Cat. 24) , cdmaOne (IS-95) , CDMA2000 1xRTT (IS-2000) , CDMA2000 1xEV-DO Rel. 0 , CDMA2000 1xEV-DO Revision A , TD-SCDMA , TD-HSDPA , LTE (Cat. unspecified) , LTE 100 Mbps / 50 Mbps (Cat. 3) , LTE 150 Mbps / 50 Mbps (Cat. 4) , LTE 300 Mbps / 50 Mbps (Cat. 6) , LTE 600 Mbps / 50 Mbps (LTE Cat. 11) , NR 1.5 Gbps data links

SIM Card Slot

Nano-SIM (4FF)

Complementary Phone Services

Voice transmission , Voice speaker , Vibrating Alert , Speakerphone , ANC , HD Voice , Voice over LTE (VoLTE)
Oppo K9 Cellular SIM 2
Dual Cellular Network Operation

Dual standby

Sec. Supported Cellular Networks

GSM 850MHz (B5) , GSM 900MHz (B8) , GSM 1800MHz (B3) , GSM 1900MHz (PCS, B2) , UMTS 2100MHz (Band I, IMT) , UMTS 1900MHz (Band II, PCS) , UMTS 850MHz (Band V, CLR) , UMTS 800MHz (Band VI) , UMTS 900MHz (Band VIII) , UMTS 800MHz (Band XIX) , CDMA 800MHz (BC0, 850) , LTE 2100 MHz (Band 1) , LTE 1900 MHz (Band 2, PCS) , LTE 1800 MHz (Band 3) , LTE 1700/2100 MHz (Band 4, AWS) , LTE 850 MHz (Band 5) , LTE 2600 MHz (Band 7) , LTE 900 MHz (Band 8) , TD-LTE 2000 MHz (Band XXXIV) , TD-LTE 2600 MHz (Band 38) , TD-LTE 1900 MHz (Band 39) , TD-LTE 2300 MHz (Band XL) , TD-LTE 2500 MHz (Band XLI)

Sec. SIM Card Slot

Nano-SIM (4FF)

Sec. Supported Cellular Data Links

GPRS (Class unspecified) , EDGE (Class unspecified) , UMTS 384 kbps (W-CDMA) , HSUPA (Cat. unspecified) , HSUPA 5.76 Mbps (Cat. 6) , HSDPA (Cat. unspecified) , HSPA+ 21.1 Mbps (Cat. 18) , HSPA+ 42.2 Mbps (Cat. 20) , DC-HSDPA 42.2 Mbps (Cat. 24) , cdmaOne (IS-95) , CDMA2000 1xRTT (IS-2000) , CDMA2000 1xEV-DO Rel. 0 , CDMA2000 1xEV-DO Revision A , LTE (Cat. unspecified) , LTE 100 Mbps / 50 Mbps (Cat. 3) , LTE 150 Mbps / 50 Mbps (Cat. 4) , LTE 300 Mbps / 50 Mbps (Cat. 6) , LTE 600 Mbps / 50 Mbps (LTE Cat. 11)
Oppo K9 Input Interface
Touchscreen Type

Capacitive multi-touch sensing
Oppo K9 SD Card Supported
Oppo K9 Communication Interfaces
USB

USB 2.0

Bluetooth

Bluetooth 5.0

Wireless LAN

IEEE 802.11a , IEEE 802.11b , IEEE 802.11g , IEEE 802.11n , IEEE 802.11ac

NFC

NFC A , NFC B
Oppo K9 Satellite GPS Services
Complementary GPS Services

Simultaneous GPS (S-GPS), Assisted GPS, Kétfrekvenciás GPS, Geotagging, QuickGPS, QZSS

Supported GLONASS protocol(s)

FDMA

Supported Galileo service(s)

Open access
Oppo K9 Camera
Camera Placement

Rear

Camera Image Sensor

BSI CMOS

Image Sensor Pixel Size

0.80 micrometer

Number of effective pixels

64.0 MP camera

Aperture (W)

f/1.70

Zoom

1.0 x optical zoom

Digital Zoom

Phase-Detection Autofocus (PD AF)

Focus

Phase-Detection Autofocus (PD AF)

Video Recording

3840x2160 pixel

Video Recording Frame Rate

30 fps

Flash

single LED

Camera Extra Functions

Electronic Image Stabilizer (EIS), Video Stabilizer (EIS), Pixel unification, HDR Photo, HDR Video, Red-eye effect reduction, Slow motion video, Burst mode, Touch focus, Macro mode, Panorama Photo, Face detection, Face tagging, Smile detection, Face retouch, Face retouch (video), Intelligent scene detection

Aux. Camera Image Sensor

BSI CMOS

Auxiliary Camera Resolution

8.0 MP aux. cam

Aux. Camera Aperture (W)

f/2.20
Oppo K9 Camera Secondary
Secondary Camera Placement

Front

Secondary Camera Sensor

BSI CMOS

Secondary Number of pixels

00.0 MP 2nd cam

Secondary Aperture (W)

f/2.00

Secondary Camera Extra Functions

Pixel unification, HDR Photo, HDR Video, Burst mode, Panorama Photo, Face detection, Face tagging, Smile detection, Face retouch, Face retouch (video), Intelligent scene detection
Oppo K9 Battery
Battery

Lithium-ion polymer (LiPo)

Nominal Battery Capacity

4300 mAh battery
Oppo K9 Sensors
Built-in compass

Yes

Built-in accelerometer

3D (3-axis) accelerometer

Built-in gyroscope

3D (3-axis)

Oppo K9 Sensors

In-screen fingerprint sensor , Light intensity sensor , Proximity sensor , Step counter
Oppo K9 Protection
Protection from solid materials

Yes

Protection from liquids

Yes